The ABCs of ESG
What is ESG?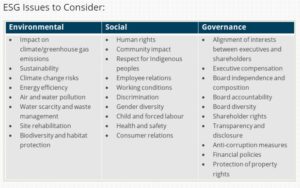 ESG (Environmental, Social, and Governance) is an investment discipline focused on non-financial factors that investors have determined as being critical for a firm's long-term performance.  These factors focus on a variety of issues ranging from climate change, gender equality in the workplace, and board independence.  Companies have begun to voluntarily report on their ESG issues with many investment institutions urging the SEC to make it mandatory.
Why ESG?
The first attempt for sustainable investing began in the 1980s with the use of exclusionary screens focused on excluding companies that have e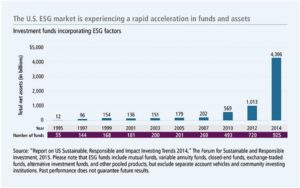 xposure to tobacco, alcohol, or firearms.  More recently a growing number of investors have been focused on impact investing, or investing in companies that they believe will have a beneficial impact on society.  Exclusionary and impact investing tend to focus on personal preferences and at times may struggle to perform versus a market benchmark.
Institutional investors have focused on ESG factors instead as a means to generate alpha, or excess return over the market.  The factors represented within the ESG framework have historically shown outperformance and have been used as a proxy for companies that have quality balance sheets and high ethical standards.
HFS and ESG           
Here at HFS we believe in matching the right investment solution to that of our client's goals.  We structure our ESG model to provide a similar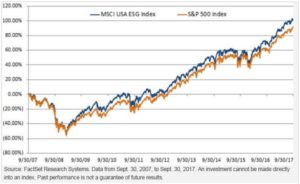 risk/return profile to that of our traditional model and within a client's risk tolerance.  Our belief is that as the investment industry adapts, firms will be required to provide ESG metrics for institutional investors and evolve to keep up with industry trends.  For our model we focus on fund managers with a proven track record in ESG investing and not on managers trying to jump on the bandwagon.
Written by:  Antonio Belmonte, CFA
These are the opinions of Antonio Belmonte and not necessarily those of Cambridge, are for information purposes only, and should not be construed or acted upon as individualized investment advice.  Investing involves risk.  Depending on the types of investments, there may be varying degrees of risk.  Investors should be prepared to bear loss, including total loss of principal.  The strategies discussed herein are not designed based on the individual needs of any one specific client or investor.  In other words, it is not a customized strategy designed on the specific financial circumstances of the client.  However, prior to opening an account, your advisor will consult with you to determine if your financial objectives are appropriate for investing in the model.  You are also provided the opportunity to place reasonable restrictions on the securities held in your account.
Resources
Morningstar Sustainalitics
https://www.morningstar.com/articles/745796/introducing-the-morningstar-sustainability-rating-.html
BlackRock Sustainable Investing
https://www.blackrock.com/ch/individual/en/themes/sustainable-investing
Parnassus Investments
https://www.parnassus.com/how-we-invest/responsible-investment-approach
Calvert Investments
https://www.calvert.com/four-pillars-of-responsible-investing.php
Securities offered through Registered Representatives of Cambridge Investment Research, Inc., a broker-dealer member FINRA/SIPC. Advisory services through Cambridge Investment Research Advisors, Inc., a Registered Investment Adviser. Cambridge and HFS Wealth Advisors are not affiliated.
HFS Wealth Advisors
3866 Brecksville Road, Richfield, OH  44286