Our professional team of financial advisors offers services to individuals and small businesses. We provide guidance and personalized solutions for a broad range of financial situations. HFS Wealth Advisors can help you plan for your child's education, your retirement, or your estate needs to help you achieve financial peace of mind. To learn more about the core services we provide at HFS Wealth Advisors, click on the drop down fields below.
Our Core Deliverables
Investment Management
Investment management is the professional management of assets to meet your specified investment goals and objectives. Through a comprehensive risk tolerance and goals assessment, we provide an analysis of your portfolio and delineate strategies needed to meet objectives identified through our
"Three L's" process
. At HFS Wealth Advisors, investment management is comprised of asset allocation modeling, individual investment selection, tactical allocation, and other additional factors.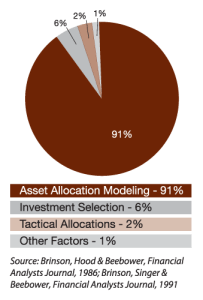 Asset allocation modeling

– We believe asset allocation is the most important factor in whether or not a portfolio will earn, over time, the rate of return needed to meet your specific goals. The asset allocation model that works best to achieve your goals at any given point in your life will depend on your time horizon and ability to tolerate risk.

Individual investment selection

– HFS Wealth Advisors purchases exchange-traded funds and mutual funds for client portfolios instead of individual equities and bonds. We do not use any proprietary products and assemble a basket of securities from each asset class in the form of an exchange-traded or mutual fund. In doing so, the portfolio is far more efficient and less costly.

Tactical allocation

– We utilize a shorter term application for our models, strategically rebalancing them on a scheduled, predetermined timeframe in correlation with a client's goals, objectives, and risk tolerance.

Other factors

– Other factors such as fees, tracking costs, and commissions are necessary to properly manage and rebalance portfolios in accordance with each client's unique goals and objectives.
Retirement Planning
We understand that the many areas of retirement planning can often be overwhelming and intimidating. However, the earlier clients start saving for retirement, the more their money can work for them. HFS Wealth Advisors offers a wide array of retirement vehicles and the knowledge to deliver clear advice on the best options for each individual's or family's situation and goals. We help clients with individual and employer plans for pre-tax and after tax dollars. We guide you through the process of planning for retirement, work with you to clarify your goals, and then implement the agreed upon plan. At the point of retirement, your financial status changes from the accumulation to the distribution phase and with that new status comes a new set of considerations. We guide you through this stage as well, offering insight as to the best strategies for income distribution.
College Funding
It can be difficult to attain the necessary funds to pay for higher education costs and plan for the impact of inflation. The average cost of college increases at approximately 5.6 percent per year (The College Board Trends in College Pricing 2011). In 18 years, by the time a child is ready for college, the price of education could almost triple. Our team can develop a comprehensive education plan and then work with you to take action to achieve your plan. Two options for starting a college plan that we offer include, 529 Plans and Coverdell Educational Savings Accounts (ESAs). Features of a Coverdell ESA are similar to a 529 but may also be used for high school and other types of qualified education. We will help you explore other options for education funding, including various financing options that allow you to meet your education goals.
Estate Planning
Estate planning is the process of preserving the assets you have acquired during your lifetime while creating a tax efficient transfer of wealth to your heirs, your spouse, a charitable organization, or a combination of all three. HFS Wealth Advisors assesses your overall financial situation so your estate plan accomplishes your exact goals and objectives. We can also review wills, trusts, and asset titling to help you determine your estate distribution. Estate planning is also an essential tool for business owners which includes ownership succession, business valuation, and asset liquidity.
Risk Management and Insurance
Risk management is designed to protect you and your loved ones financially in times of unpredictable tragedies. Our team of experienced professionals can help guide you through the complex insurance field. We will conduct an audit on your current insurance policies to confirm you have the best coverage for your needs and explain any gaps that may exist, including a review of your beneficiaries. Our goal is to manage the risk that can be controlled and efficiently insure against the rest.
Life insurance is designed to protect those you love after an unforeseen death. The two main types of life insurance are term and permanent life. Term life insurance offers protection for a defined period of time and permanent life insurance can provide coverage for an indefinite length of time.
Long-term care insurance policies pay a pre-determined amount toward long-term care costs. It may be funded by annual premiums or a lump sum. In most policies, you can receive care in your home or a facility of your choice.
Disability insurance provides a specific amount of income in the event of an injury or illness that keeps the insured from working.
Business Planning
We want to know how you got your business to this point, where you are going with it, and how you will get there. HFS Wealth Advisors helps business owner's work on the business rather than in the business. We offer executive compensation plans, retirement planning, and business continuity planning:
Executive compensation plans can be set up to attract and retain the very best employees in your field.
HFS Wealth Advisors can institute 401(k)s, profit sharing plans, and many other types of plans to benefit you, the business owner, as well as your employees.
We will help to develop a plan which ensures that your business follows the path you envision.